This change log was made available on July 15, 2015. Read the official news post. Read the IndieDB post.
The logs are as follows:
Change Log 05.16
Edit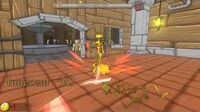 Bot is finished and needs extensive tests.
Customers become skeletons on death and dissipate over time.
For us devs, press K for lots and lots of XP giving thousands of Keep Points.
Pressing I will toggle the main UI on/off.
Change Log 05.19
Edit
Pressing P will toggle phasing through objects and walls.
Left Shift and Left Control raises and lowers the main camera.
WIP durability in place but turned off for debugging.
Change Log 05.20
Edit
Customers dirty the floor where they walk.
1,2,3,4 buttons change the players state.
Q and E buttons are context buttons:

Shop Keep state - Q opens central UI, E Opens shop.
Builder State - Rotates object left and right.
Cleaner State - Q selects Broom, E selects Hammer.

Dirt Directly influences the appeal of the shop, a clean shop + 30% skill gives you an overhead of 130% appeal.
Object durability suffers from items being placed, taken, and knocked off. A decrease to 80% durability will start to make customers ignore items on the object.
A chaotic customer now sometimes runs in and knocks some items off their objects. Deal with it!
Broom and hammer functionality, no visuals or sounds as of yet.